Many car accidents are preventable. They happen because distracted, careless, and intoxicated drivers make mistakes. A serious rear ending, head on collision, or T-Bone (side impact) accident can change lives in an instant. Instead of going into work, you may lie in a hospital bed with broken bones wondering how you will pay the bills, negotiate with insurers, and get back to your life. The San Bernardino office of Estey & Bomberger, LLP helps accident victims find closure and fight for fair compensation after serious and deadly car accidents.
The Statistics: San Bernardino Auto Accidents
Across the United States, 32,166 people died as the result of vehicle crashes in 2015. In California, 3,176 people lost their lives that year. The state had 8.1 deaths per 100,000 residents. In San Bernardino County, 232 people died in car accidents in 2015.
The roadways are changing, and large commercial trucks, driverless cars, and an increasing number of driver distractions increase the types of accidents that may occur. Distracted driving alone contributes to around 1,161 injuries throughout the United States every day.
In San Bernardino, we also see problems with street racing, drunk driving, and careless teenagers on the roadways. Dangerous roads such as I-15 run through the area and increase the potential for accidents and injuries.
San Bernardino Vehicle with Vehicle Accident Total from 2006 to 2015
From the data in the chart above, you can see that looking at the numbers from 2006 compared to those of 2015, there has been a 26.77% decrease in total collisions, which is promising. Of these years, the lowest total was in 2012 with a total collision number of 14,853.
How many fatal vehicle with vehicle accidents occurred in the last 10 years within San Bernardino County?
We have seen a drastic drop in vehicle fatalities in the last decade. There has been a decrease of 150 deaths from vehicle with vehicle collisions in San Bernardino. This is a 60.97% decrease! In regards to fatal collision totals, there has been a 52.71% decrease from 2006 to 2015. These numbers are very promising, and we hope for continual decreases in years to follow, as people learn to drive smarter and safer.
For more information, click the following link for details regarding recent Fontana Auto Accident Statistics, the largest populated city within San Bernardino County.
What are the main causes of Car Accidents in San Bernardino?
The Numbers:
1. Unsafe Speed: 9,132
2. Improper Turning: 4,982
3. Automobile Right-of-Way: 3,068
4. Under the Influence of Alcohol or Drugs: 2,155
5. Unsafe Lane Change: 2,000
6. Traffic Signals and Signs: 1,632
7. Unknown: 1,119
8. Other: 931
9. Unsafe Starting or Backing: 702
10. Wrong Side of Road: 597
11. Other than Driver: 577
12. Following Too Closely: 269
13. Pedestrian Violation: 256
Total Number of Vehicle Collisions in 2015  –  27,420
In the chart below, you'll find a breakdown of motor vehicle fatalities by state in 2016.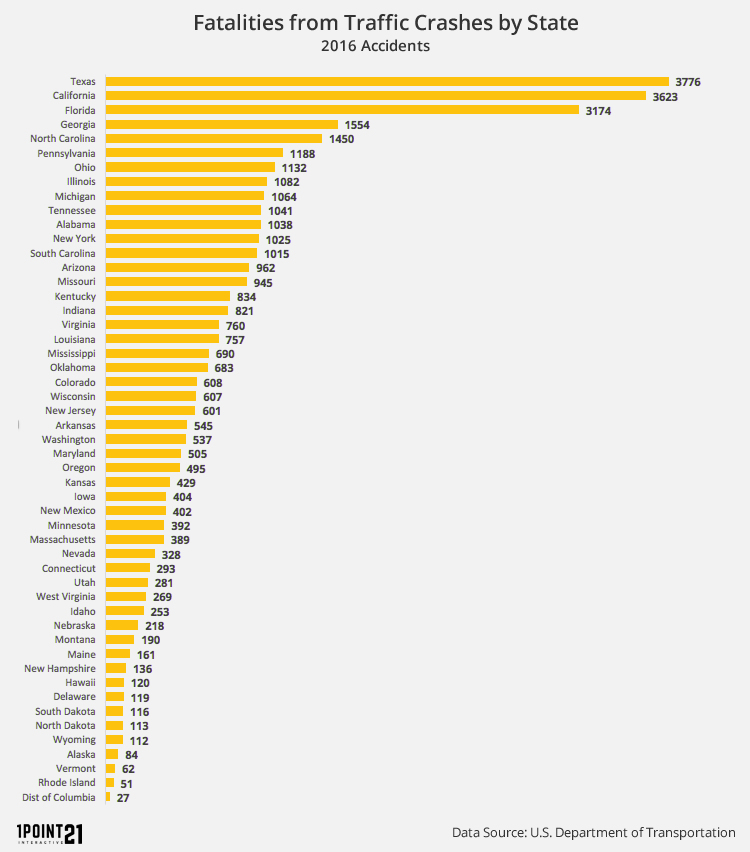 The data above shows that California had a total of 3,623 fatalities in 2016 from motor vehicle collisions. We are ranked #2 for the highest numbers of the year.
Injuries from a Car Accident
In every accident, automotive defects, roadway hazards, and other risk factors may contribute to the severity and outcome of the incident. Those injured may suffer from road rash, fractures, brain and spinal cord injuries, impalement, chronic whiplash injuries, and more. In the worst cases, people lose their lives.
Some injuries immediately cause symptoms including blood loss, shock, pain, and loss of consciousness. Others take days or weeks to reveal themselves. Someone with head trauma may walk away from an accident only to experience serious personality changes and motor function difficulties days or weeks later. Without treatment, a latent brain or nerve injury could cause permanent damage. Always seek medical support after a car accident. Doing so will create a medical record of the accident and may reveal an injury you do not feel at the time.
Attorney Stephen Estey explains Estey & Bomberger's approach to auto accident claims:

What Should I Do After an Auto Accident?
After an accident, stop or pull over to the side of the road away from traffic if possible. The first thing you should always do is seek medical attention. Those who have been harmed in car crashes often suffer multiple traumas, including head, neck, and spinal injuries, traumatic brain injuries, whiplash, and broken bones. Many car accident injuries can result in internal bleeding, deep lacerations, compressed spinal discs, and in some cases death.
If the accident caused property damage in excess of $1,000, injuries or a fatality, California's laws require that you must file an accident report within 10 days of the incident. We recommend filing a report after every accident to create a legal record of the incident. Without a record of the incident, you may lose your right to seek compensation.
Your After-Car Accident Checklist
At the scene, collect as much evidence as possible. Use a mobile device to record the scene and take pictures of injuries, vehicles, the weather, and the environment. Write down the information of everyone including law enforcement officers and emergency personnel. Report the incident to your insurance representative, but avoid giving details that you may not remember clearly. In cases involving severe, chronic, and debilitating injuries or death, you may want to consult with an attorney to understand your rights.
Why Call a San Bernardino Car Accident Attorneys for Your Legal Claim?
You can control the way you drive on the roadway, but you can't account for someone else's carelessness. When others engage in risky behaviors and cause accidents, you retain the right to pursue legal action against anyone responsible. At Estey & Bomberger, LLP in San Bernardino, we work with our clients to secure medical support, negotiate with bill collectors, and discuss terms with insurance representatives. Your rights are our top priority. We offer extensive, expert legal help throughout the process to ease the struggles and pains from auto accidents throughout San Bernardino.
Count on us to offer compassionate support, to meet you when and where you need us most, and to fight relentlessly for your right to compensation under California accident laws. Our firm has access to the resources, network, and legal support you need to obtain justice and to secure fair compensation. For more information or to schedule a free, personal consultation with one of our accident attorneys, contact us at our San Bernardino office or call us today at 909-882-2016.